Spitting alpacas. Sharp-toothed donkeys. Turpentine the tom turkey nipping at your thighs. Shooting bright lights into stuffed animals' eyes.
These are some of the antics of the crazy mammals on the new Nat Geo Wild television series Vet School, now airing Saturdays at 10 p.m. through Oct. 31 and streaming at all hours online—if you still happen to pay for cable.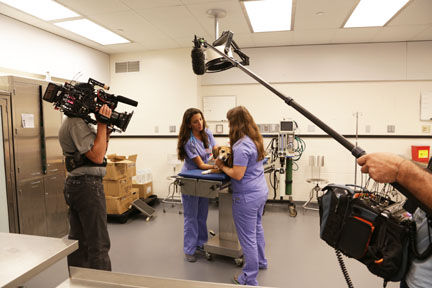 Vet School was filmed at Cornell's College of Veterinary Medicine and their hospital for animals in fall 2014 by Thinkfactory Media, a docuseries production company. The show's stories and vignettes come from classrooms and exam rooms, and they show everything from students learning how to milk a cow to doctors delivering sobering or heartwarming diagnoses for beloved family pets. Seven students are featured: three just starting out, and four fourth-years who have now scattered to the job market winds. 
Film crews were awaiting students when they arrived for their first day of school. 
"I think I wasn't really totally prepared for what I'd gotten myself into," said Hannah Brodlie, now a second-year student. "When they followed us into the anatomy lab, I was not thrilled. It took me a couple of days to adjust, because you were meeting this whole new group of people." 
"My first couple labs I definitely was a little nervous. I wasn't asking as many questions as I usually do," said Dan Cimino, another current second-year who is featured in Vet School. "That went away relatively quickly, within a month. After a while I didn't notice [the camera crews] were there anymore." 
Brodlie and Cimino said they received an email from the college's dean of students about a month before classes began, asking about their interest in being featured on the show. 
"I did a 15-minute Skype interview with the network, and I was a total ridiculous human and thought they'd never call me back, and I guess they thought that was great," Brodlie said. After consulting with his parents and asking if his personal life would be featured—the answer was no—Cimino said he felt comfortable signing onto the show. 
Thinkfactory approached the College of Veterinary Medicine in October 2013 about filming a show, said Claudia Wheatley, a college spokesperson. 
"We were interested because Thinkfactory had produced high-quality video for Nat Geo in the past, and National Geographic itself has a long history of excellence in media," Wheatley said. "We came to view the show as a fantastic opportunity to raise the profile of the veterinary profession and to help the public understand the rigorous education leading to a veterinary degree." 
Sam Dicker, who is now a resident at Garden State Veterinary Specialists of Tinton Falls, New Jersey, said that there was usually "a posse of five to eight people following you at any particular time." Two cameras, a couple producers, perhaps a production assistant, and a sound guy or two made up the crew. In some situations, the crew did make things feel a bit cramped, according to Dr. Eva Oxford, a resident in cardiology. 
"Even with how big our E.R. is," Oxford said, "it doesn't feel that big when you have all of the doctors, technicians, and students [in there], and then about 10 people from the film crew cramped along the walls trying to film everything." 
As Wheatley noted, it's not unusual to have cameras in the operating room.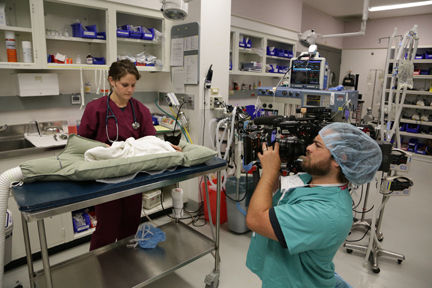 "Many procedures are recorded so surgeons can learn from each other and evaluate protocols for possible improvements," Wheatley said. And though there are no HIPAA privacy protections for pets, releases were required for their stories to be on television. Students who weren't enthused about being featured on the program have their faces blurred out in group shots. 
Besides initial nerves and space occasionally feeling tight, no one who spoke for this story had anything but praise for the crew's professionalism. 
"I'd never given it much thought, but [filming the show] is a lot more work than you'd think," Oxford said. "The amount of footage they have for any given storyline is probably tenfold compared to what we see in the final production." 
"They were awesome people," Brodlie said. "Whenever they were there they'd sometimes ask you a question—say, 'Can you tell me what you're doing with this cow?' Sure, I'll take five minutes and explain." 
Crews captured lots of firsts for the new students: "All basic first-year anatomy lab stuff that happens every year," Brodlie said. "How to do a physical exam, how to do a thoracic exam on a horse, how to find their laryngeal cartilages." 
Vet School shows the more amusing moments from these introductions, including an alpaca that decided to target student Cristina Bustamante, another of the then-first-years featured, and performing eye exams on "stuffies" before moving on to real cats. In one bit, Brodlie, Bustamante, and Cimino are asked to explain the "stay apparatus" of equine anatomy that allows horses to stand upright even in sleep. Their answers showed them to need some more time studying their definitions. 
So far as stories from the operating and exam rooms go, there was no way for the producers to tell what might become a good story and what footage would be left on a cutting room hard drive. 
According to Dicker, the producers might ask in the morning what cases were to be seen that day, and they liked "starting from scratch," with a consultation that could begin a new story. In cases where the story would be too short—Dicker said at least once in his experience, the story ended with the pet being put to sleep—the crews moved on to filming something else. Since the stories had to come from day-to-day hospital activity, chance, as well as editorial direction, influenced what ended up on the program.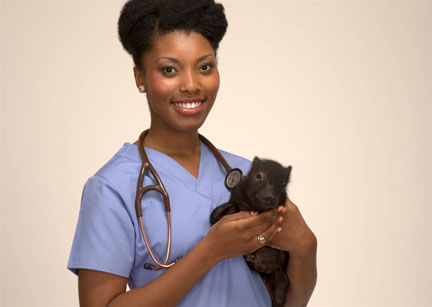 "The two-week block when Aziza [Glass] was on cardio rotation, it just happened that everything sort of exploded with a lot of very critical cases," Oxford said. "Very emotional cases. There wasn't a lot going on elsewhere in the hospital, so the crew spent a lot of time with us." 
Since Vet School has gone to air, the featured performers have, quite naturally, heard about it from family and friends. 
"The nurses here or the doctors say, 'Hey, celeb, I saw you on TV last night. Can I get your autograph?'" Dicker said. "I was standing here at the reception desk and saw the Ithaca Times pop up on the caller ID—I said, 'You don't have to page. That's going to be for me.'" 
Dicker and some of his fellow 2015 graduates had a taste of notoriety last spring, when their senior class skit, a parody of Bruno Mars' "Uptown Funk" entitled "Vet School Funk," hit the Internet's viral wires to the tune of nearly 250,000 YouTube views. The students had considered the previous class's knockoff of Miley Cyrus' "Wrecking Ball" to be a "particularly poor performance," Dicker said, and they had made sure to raise the bar for classes to come. 
As part of their star turn, Brodlie and Cimino traveled to Los Angeles this past July as part of the Vet Schooldelegation that visited Jay Sherman and friends at the Television Critics' Association biannual season preview shindig, held at the Beverly Hills Hilton. 
"That was a total trip," Brodlie said. "An out-of-body experience. You go to L.A. and stay in this fancy hotel, and people take your photo like you're somebody, and you know you're nobody. It was a bizarre experience and super-fun. I would do it again, if they wanted to fly me out there, but it's not real life." 
The critics weren't too harsh on these amateur players; during Q&A time, Cimino said "one lady raised her hand and said how much she liked cats, and that was about it." During the cocktail meet-and-greet, one guy asked Cimino about his Ithaca College football career and then showed off pictures of his own dog.
Oxford said that the coolest thing that has happened because of the show so far was when they received an email from the owners of Millie, a bulldog whose heart surgery was documented. 
"They had a little viewing party for family and friends, and I got an email from her family saying how much they enjoyed watching the show and reliving it," Oxford said. "They said everybody cried watching it." 
In the interviews and activities, Vet School accurately reflects the people featured and real vet school life. 
"Everybody gets to see us just sort of doing our jobs," Oxford said. "There are a lot of different movies and books about becoming a veterinarian … This show is very realistic in that it shows the ups and downs of choosing that as a career." 
"I don't censor myself—I'm kind of a quirky, silly person, I guess," Brodlie said. "I sometimes look at the show and wish I was a little more put together. But such is life." 
"They definitely didn't hide anything," Cimino said. "[The crew] kept saying this is what they love about making TV—they get to tell a story and put in everything that's there and make it realistic as possible. That being said, they don't put in as much of the bookwork that we do. It doesn't make good TV." 
Second-year students spend most of their time in the classroom, and rotations don't begin until the middle of the third year, so the decision to film first-years learning the basics and fourth-years working in the hospital made all sorts of editorial sense. Hearing the soundtrack that's cut into the show, swelling and ebbing with the emotional impact the producers want the audience to feel, is a little strange for those watching it now. 
"The music is a kick," Brodlie said. "You get used to it after watching the show a couple times. It's pretty hilarious having lived it and going to school here and working in hospital here." 
"There's something I would do every single day, and they add dramatic music. You kind of roll your eyes," Dicker said. "It's for effect. Television needs to be interesting, it needs to be compelling, and you need a storyline and drama for people to stay tuned. At the end of the day, it's a good show." 
If there's one thing that separates even the most accurate documentary filmmaking or true-to-life TV from reality, it's the compression of days of not-much-doing into an hour of entertaining scenes. 
"The only way to know what vet school is about is to go through it," Oxford said. "Everything is sort of abbreviated … To get a good feel, you need to live it a little bit to know what it's really like." 
Read more at: http://www.ithaca.com/news/national-geographic-makes-celebrities-of-cornell-vet-students/article_b798b62a-6c76-11e5-b521-eb8bf372f6a7.html